<

With so many skincare products these days containing powerful and effective ingredients, you may experience a tingling or burning sensation upon application. Is that a good thing? Does it mean that the products work effectively? Or is that bad for your skin? In this post, I explain how you can tell if the feeling you get from a skincare product is normal.
What feelings are considered okay? how much is too much
A tingling or stinging sensation is caused by an inflammatory reaction to a skin care product. The face has nerve fibers that lie close to the surface of the skin and when certain ingredients are applied they can activate these nerve fibers. Since blood vessels are also present near the surface of the skin, this inflammatory response can also cause redness or a feeling of warmth.
In some cases this is considered normal. In others, it means a product isn't compatible with your skin and is a sign to stop using it.
But how do you know what's okay and what's not? When I've worked with clients at my spa, giving them professional chemical peels (which can get pretty harsh), I'd always ask them to rate their feelings on a 0-10 scale. You can think of it in those terms, but since a 10 can be different for everyone, I like to break the sensations down into three basic categories: tingling, stinging, and stinging/burning. Here are the facts about each.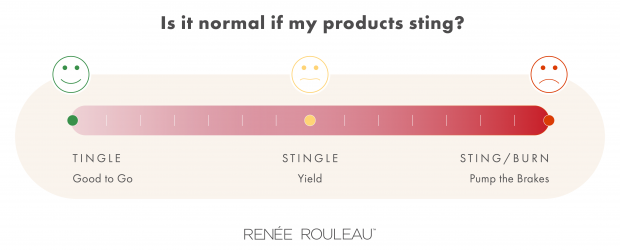 1. Tingling
A tingling is the mildest sensation. It's a mild sensation that goes away quickly (usually within a minute. You can feel something happening, but it goes away with no visible redness.
If all you feel is a tingle, you are most likely ready to go. This is considered normal for certain ingredients and could also be an indication that your moisture barrier is a bit fragile at the moment.
2. Sting
This is slightly more intense than the tingling. It's a mild tingling sensation that goes away on its own but can last up to two minutes. The skin may appear slightly pink, red, or feel warm.
If you feel a stinging sensation, you're probably safe, but take stock before proceeding. Again, this is considered normal with certain products and if it goes away within a few minutes then everything is fine. If it lasts longer or you feel it frequently, it could mean your moisture barrier is compromised and in need of some TLC. People with sensitive skin (ex Skin types 3, 4 and 5) should pay special attention to a spike. It could mean that you need to be a bit careful with this product and use it less often or switch to a lower strength.
3. Stinging/burning
This is the most intense level and usually lasts a long time. When skin care products burn, you will feel it a lot. If it lasts longer than a minute, you'll likely enter the burning sensation phase (not good!). Stinging and burning are often accompanied by reddened or hot skin.
When a product causes this reaction at home, it's a clear sign to stop using it and wash the product off. I would say the only exceptions are prescription or clinical products that are given to you by a professional with specific instructions for use. The other time would be when you get a professional treatment (like a chemical peel) from an esthetician or dermatologist. Since these tend to work on deeper layers of the skin than at-home products, they tend to cause more intense sensations and are sometimes even designed to do a little damage to stimulate a healing response.
When this happens, here are 9 ways to quickly relieve irritation.
When is it good to feel a sensation, like tingling or stinging?
Whether or not you should feel any sensation ultimately depends on the type of product you are using. It's normal to feel when…
The product contains ingredients that

lower the pH of your skin

The product contains stimulating, energizing ingredients
Common ingredients that may cause tingling or stinging
peeling acids
These include AHAs like glycolic, lactic, and mandelic acids, BHAs like salicylic acid, and even PHAs. Some acids, like glycolic acid, have smaller molecular sizes than others. This means they can penetrate deeper and may be more likely to cause tingling. Learn more about the
different types of peeling acids
.
exfoliating enzymes
While these don't work by altering the pH of the skin, it's still considered normal for them to cause sensation. These include ingredients like bromelain and papain
L-ascorbic acid
This is one of the most common forms of vitamin C and can cause tingling or stinging due to its low pH. (That's why I prefer to formulate it with gentler but equally potent forms of vitamin C such as tetrahexyldecyl ascorbate.)
citric acid
Like L-ascorbic acid, citric acid has a low pH and can cause a tingly sensation.
Stimulating ingredients
These are ingredients meant to stimulate circulation and revitalize dull skin and include peppermint or menthol, ginseng and cyanocobalamin (vitamin B12).
*NOTE: If you use a product with any of these ingredients and don't feel it, it doesn't mean the product isn't working. Because everyone's skin is different, everyone will experience these ingredients differently, but more on that later.
When is it bad to feel a sensation?
If you're not using a product with any of the ingredients listed above, in most cases you don't want to feel much of your skincare products. Even a sting could indicate that a product is not right for you.
If you experience persistent tingling or stinging without using the ingredients listed above, it could mean your skin's moisture barrier is out of balance. When your barrier is compromised, products and ingredients that wouldn't normally cause problems can suddenly start tingling or stinging. This is because your protective barrier is cracked, exposing your nerve endings and making you feel very sensitive. It's like putting something on broken skin – it burns when it normally wouldn't. You should still avoid stinging ingredients until you've restored your barrier, but that doesn't mean you have to swear off these products forever! Just try adding them back one at a time once your skin is less sensitive. learn more about possible reasons for a compromised barrier and how to fix it.
Aside from a broken barrier, these are the most likely reasons why a product will create a negative feeling:
The product contains irritants such as large amounts of fragrances or essential oils

The product contains high amounts of

drying alcohols

The product contains an ingredient to which you are allergic or sensitive
My exfoliating acid serum used to hurt, but now it doesn't. Does this mean it no longer works?
Many people will notice a stinging or stinging sensation when using exfoliating acids for the first time. This is fully expected. However, after a while this may go away. Why? Because exfoliating acids actually enhance lipid production to repair the skin's barrier (cool right?). As the barrier becomes stronger, fewer stitches will be felt.
The problem is that some people associate stinging with effectiveness. It is that "No pain no gain" Mentality. If you keep trying to chase the sting by going to a higher acid level, you can damage your skin by keeping it in a state of inflammation. The goal is that you don't feel any tingling, stinging, or stinging at all!
bottom line
Today there are more advanced skin care products than ever before. Things once used by professionals are available to clients at home, so it's more important than ever to monitor your skin and know when it's telling you to hit the brakes. We don't want to fall into the No Pain No Gain philosophy! Knowing where you are and being able to make distinctions for yourself is crucial. Feeling doesn't automatically mean bad, but constantly putting your skin in an inflammatory state is a recipe for disaster.
Next, read about the four different types of skin sensitivity.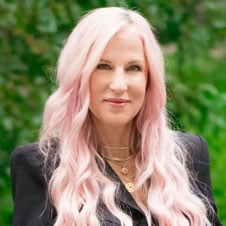 Famous beautician and skincare expert
An esthetician trained in cosmetic chemistry, Renée Rouleau has spent 30 years researching skin, educating her audience and building an award-winning line of products. Her hands-on experience as an esthetician and trusted skincare expert has created a real solution – products formulated for nine different skin types to give your face exactly what it needs to look and feel good. Celebrities, editors, bloggers and skincare enthusiasts around the world trust her extensive real-world knowledge and ongoing research. Marie Claire calls her "the most passionate skin practitioner we know."