<

Did you know that fall is the most common time of year for outbreaks? It's all due to a seasonal combination of oil and dead skin cells. Here's what happens. In summer, the oil flow in the skin increases. This continues into autumn. When temperatures drop, layers of dead cells build up on the skin's surface. These dead cells trap oil (and bacteria) beneath the surface. The trapped oil and bacteria prevent oxygen from entering the pore. From there, C. acnes Bacteria thrive and outbreaks occur. (If you want to learn more about the science behind breakouts, click here).
Fortunately, it's possible to address this seasonal cycle without completely overhauling your current skincare routine. You just need to know what works (and what doesn't matter). Keep scrolling to find out everything you need to know!
7 fall skincare tips to reduce seasonal breakouts
1. Avoid high-sudsing detergents
Your cleanser is the most important product in your skincare routine. Why? Because if you use a foaming cleanser or a bar of soap that is too dry, it can dehydrate your skin and build up dead skin cells. As we now know, this buildup can trap oil and bacteria, which can lead to breakouts.
To avoid this, stay away from high-sudsing cleansers that contain harsh ingredients like sodium laureth sulfate. Instead, reach for sulfate-free cleansers like the AHA/BHA Blemish Control Cleanser, which can remove excess oil without causing further breakouts. As a general rule, I always say the more suds a cleaner has, the more it dries, and the less suds it has, the less it dries.
2. Change your pillowcase every night
It might not seem like much, but changing your pillowcases regularly can make a world of difference when it comes to managing breakouts. That's because your pillowcase can collect oil and bacteria from your skin as you sleep. If you rest your head on the same pillowcase the next night, you run the risk of reintroducing all that oil and bacteria back into your skin (yikes!). I recommend investing in a nice stack of pillowcases so you can change them regularly. I also recommend washing them conscientiously, using a dye-free and fragrance-free laundry soap.
3. Avoid using toners that contain alcohol
Some people like the "clean" and "dense" feeling they get when using toner with alcohol. What you should know is that this ingredient can draw water from the skin, which can lead to the buildup of dead skin cells I discussed earlier. In fact, any time you try to "dry out" oily skin in this way, it can backfire. That's why I'm not a fan of most conventional acne products. They're just too dry (more on that in a moment).
Alcohol-free toners are different. As I always say, skin cells are like fish in that they need water to survive, and these types of toners can instantly hydrate thirsty skin cells. Cleanse your skin, immediately follow the toner, leave moist and move on to your next product. Your skin will thank you.
Incidentally, every single Renée Rouleau facial tonic is alcohol-free and the right thing for every skin type. Take the skin type quiz to find the right one for you.
4. Exfoliate regularly
One of the best fall skincare tips I can give is to exfoliate regularly. This removes dry skin cells and clogged pores. I recommend using both a chemical and physical peel. Chemical peels like glycolic acid loosen and digest dead skin cells. Physical scrubs, like facial scrubs, lift and remove them.
Combining the two exfoliation methods is your best bet—not only for treating seasonal breakouts, but also for treating hyperpigmentation and texture issues.
5. Avoid traditional acne products
Remember how I said I'm not a fan of most traditional acne products? That's because they're formulated to "dry out" a blemish. So when used all over the face, they cause dead skin cells to build up and trap oil and bacteria in the pores. What does this lead to? Yes, outbreaks.
Because of this, I recommend avoiding these types of over-the-counter products, or at least being cautious. (Read more about how dry products can make pimples worse, then learn how to get rid of a blemish quickly and without misfiring.
6. Get at least 8 hours of sleep every night
Not only is sleep important for keeping dark circles at bay, but it's also the time when your body is at its most metabolically active, clearing itself of toxins that could otherwise wreak havoc on your skin. Sleep can also reduce stress, which often makes acne worse! It's important to get at least 8 hours of deep, restful sleep each night. Don't underestimate it!
7. Get a professional facial
My final fall skincare tip for reducing seasonal breakouts is a facial. I recommend monthly pore-cleansing facials for anyone with blemish-prone skin. An esthetician can safely unclog pores and offer customized chemical peels to keep skin clear and smooth.
Finally, I want to reiterate the importance of using the right products for your skin type. When you're giving your skin exactly what it needs, you're working with it, not against it. To find out which of the 9 skin types you belong to, take the skin type quiz. At the end you will receive personalized product recommendations. If you're looking for even more guidance, schedule a virtual consultation with a Renée Rouleau esthetician.
Next, check out 8 more tips for successfully transitioning your skincare routine from summer to fall.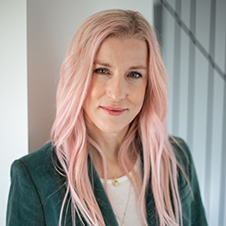 Famous beautician and skincare expert
An esthetician trained in cosmetic chemistry, Renée Rouleau has spent 30 years researching skin, educating her audience and building an award-winning line of products. Her hands-on experience as an esthetician and trusted skincare expert has created a real solution – products formulated for nine different skin types to give your face exactly what it needs to look and feel good. Celebrities, editors, bloggers and skincare enthusiasts around the world trust her extensive real-world knowledge and ongoing research. Marie Claire calls her "the most passionate skin practitioner we know."