<

This podcast episode is sponsored by Nutrisense! I've been a huge fan of Nutrisense for over a year and recently wore another CGM over the holidays. If you want to join me and gain insight into your habits and body and make some healthy changes, sign up here. Use this link and promo code TFP (stands for The Fitnessista Podcast) to get $30 off and 1 month free nutrition advice.
Today's podcast is about one of my favorite topics: Yoga! Whether you are a seasoned yogi or just contemplating your first practice, this episode is packed with tips and inspiration. I'm chatting with Courtney Fox, a yoga teacher from Arizona. I can't wait to take your class next time I'm in Scottsdale!
123: Yoga on and off the mat with Courtney Fox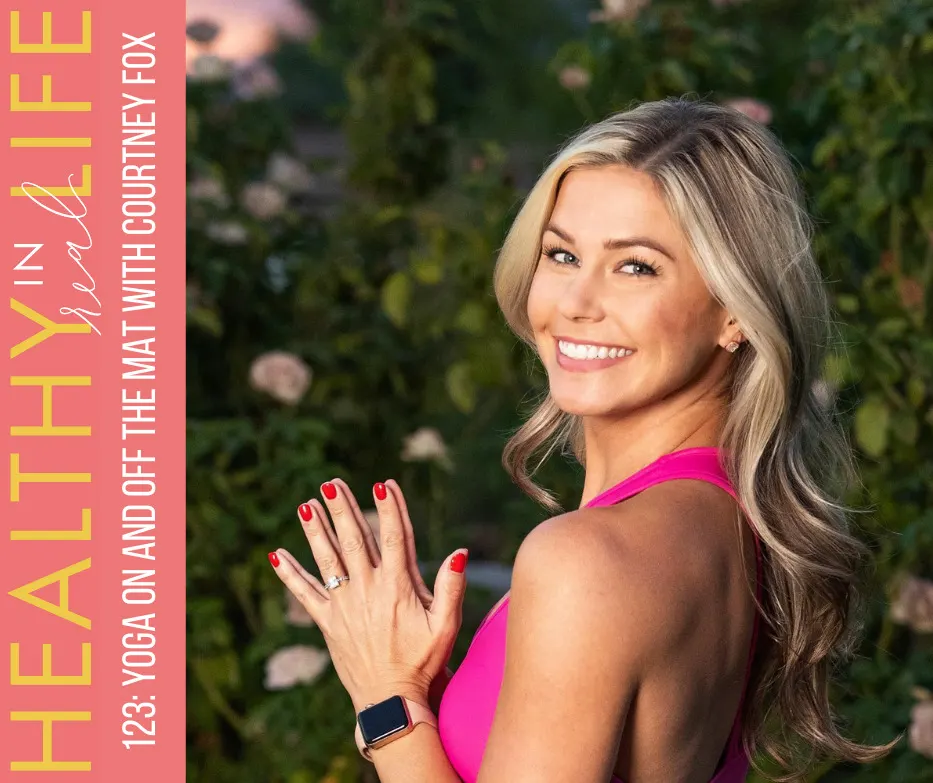 Here's what we chat about:
– Benefits of yoga and breathing for mental clarity and overall health
– Building, building and maintaining a yoga practice, plus tips for beginners
– Yoga is more than just a physical exercise. How to bring kindness, patience and lightheartedness from your mat into your life
– Balancing a yoga practice with a strength training routine
– Finding balance in a tech world + sample stretches you can do at your desk
+ so much more 🙂
Here is some more information about Courtney:
A native of Arizona, Courtney appreciates the opportunity to educate and inspire people in her hometown. She is a 500+ hour certified yoga teacher through Modern Yoga and has trained with some of the most experienced yoga professionals in the world. Her goal is to introduce yoga to beginners in a fun and beneficial way, so they can not only build a yoga practice on the mat, but transfer their practice off the mat into their daily lives to create a vibrant and healthy lifestyle. She enjoys bringing the community together by teaching at Diamondbacks Stadium, CIVANA Wellness Resort & Spa, Fashion Square Rooftop, festivals and lululemon.
As a former national competitive sports champion, Courtney understands the balance between effort and dedication. She quit her corporate job in 2015 to pursue wellness full-time. In her classes, she blends movement with breath, using unique, mindful transitions and insightful alignment cues while remaining light and inspirational. Courtney also prides herself on working one-on-one with students to strengthen their physical and spiritual practice to achieve their goals. When Courtney isn't teaching, she enjoys helping her husband on his food truck or going hiking with their puppies, Leo and Hunter.
Connect with Courtney on her website and Instagram.
Resources from this episode:
Always wanted to try Nutrisense? Now is your chance! I've been using this tool on and off for a year after finding out my fasting glucose was borderline high. It has allowed me to make simple changes in my routine and learn more about how my body responds to certain foods, stressors and habits.
Your blood sugar levels can have a significant impact on how your body feels and functions, and Nutrisense helps you analyze in real time how your body is responding to exercise, stress and sleep. It's so empowering to see how your body is responding and make changes as you go. I also like to wear a Nutrisense CGM every few months as a reminder to focus on the habits that help me sleep, function, and perform at my optimal level.
Check out Nutrisense here and use code TFP for $30 off and 1 Month Free Nutrition Consultation! Dietitian support is invaluable, helping you evaluate your data, make changes, and run experiments.
The weather is cooling down and I'm still obsessed with my sauna blanket. It feels even BETTER when it's chilly outside and you can use code FITNESSISTA15 for 15% off! This is one of my favorite ways to relax and sweat out. I find it gives me energy, helps with pain, I sleep better the days I use it and it makes my skin glow. Link to check it here. You can also use my discount on the PEMF Go Mat which I use every day!
I love love love Sakara Life's meals! Use this link and code XOGINAH for 20% off food delivery and boutique clean items. I do this once a month as a little treat for myself and the meals are always a hit. I enjoyed delivery last week after New Year's Eve, and the burger was my favourite.
15% off Organifi with code FITNESSISTA. I drink the green juice, the red juice, the gold and the harmony! (Each day I might have something different or two different things. Everything I've tried is amazing.)
When a healthcare professional friend of mine is looking for another way to help their clientsI highly recommend IHP. You can also use this information to heal yourself and then go to heal others which I think is a beautiful mission.
You can use my referral link here and code FITNESSISTA for up to $250 off the Integrative Health Practitioner Program. I've completed level 1 and am working my way through level 2. I highly recommend it! You can see my IHP review here!
Thanks for listening and for all your support of the podcast! Please subscribe to this episode and leave a rating or review if you enjoyed this episode. If you leave a review, go to this page and you get a little thank you from me to you.