<

Hello friends! Happy Thursday! I have a new podcast episode and I can't wait to hear your thoughts on it.
Today I chat with Lisa Moskovitz, RD, about quieting the dieting noise and why dieting doesn't work.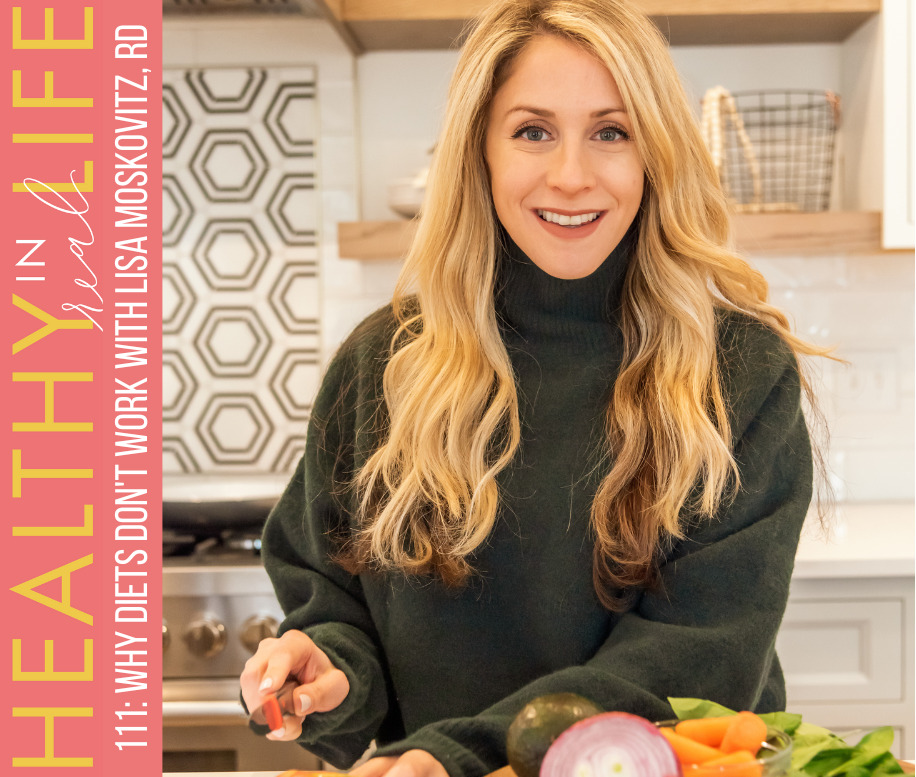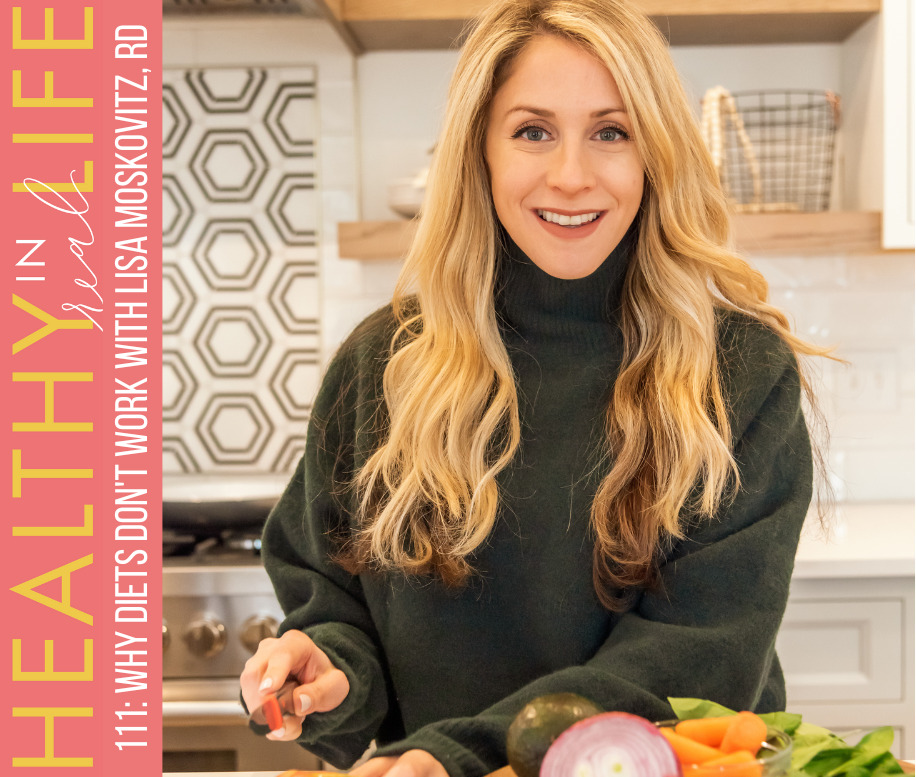 What we're going to talk about in today's episode:
How to Quiet the Diet Noise: How to become a more confident, autonomous, and intuitive eater and improve your relationship with food
How to move the needle towards fitness and weight loss goals in a healthy way
Why Diets Don't Work: How They're Actually Taking You Further From Finding Your Healthiest, Happiest Weight
How Diets Affect Your Metabolism
Her tips for living healthy in real life
and so much more.
I LOVED today's conversation and hope you're listening!
111: Why Diets Don't Work by Lisa Moskovitz, RD
Here's a bit more about Lisa and her background:
Lisa Moskovitz, RD, is a Registered Nutritionist, CEO of NY Nutrition Group, a major nutrition practice, and author of The Core 3 Healthy Eating Plan, a personalized, science-backed guide to finding your healthiest, happiest weight. She received a BS in nutrition from Syracuse University and then completed an intensive nutrition internship at NYPresbyterian Hospital. Since then she has gained over a decade of experience in private practice delivering nutrition workshops and working with the media. Lisa is regularly featured in major publications such as Well + Good, Eat This Not That and Yahoo Health and is frequently interviewed for popular news channels such as Fox 5 NY, CBS News and Inside Edition.
Visit her website here, her Instagram here and grab a copy of the Core 3 healthy eating plan (use Core20 for 20% off!).
Resources from this episode:
I love love love Sakara Life's meals! Use this link and code XOGINAH for 20% off food delivery and boutique clean items. I do this once a month as a little treat for myself and the meals are always a hit.
15% off Organifi with code FITNESSISTA. I drink the green juice, the red juice, the gold and the harmony! (Each day I might have something different or two different things. Everything I've tried is amazing.)
The weather is cooling down and I'm still obsessed with my sauna blanket. It feels even BETTER when it's chilly outside and you can use code FITNESSISTA15 for 15% off! This is one of my favorite ways to relax and sweat out. I find it gives me energy, helps with pain, I sleep better the days I use it and it makes my skin glow. Link to check it here. You can also use my discount on the PEMF Go Mat which I use every day!
If one of my healthcare professional friends is looking for another way to help their clients, I would highly recommend IHP. You can also use this information to heal yourself and then go to heal others which I think is a beautiful mission.
You can use my referral link here and code FITNESSISTA for up to $250 off the Integrative Health Practitioner Program. I just finished level 1 and started level 2. I highly recommend it! You can read my first thoughts on IHP here!
Thanks for listening and for all your support of the podcast! Please subscribe to this episode and leave a rating or review if you enjoyed this episode. If you leave a review, go to this page and you get a little thank you from me to you.
xo